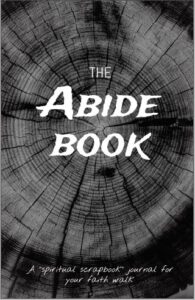 Jesus says that we cannot bear fruit – we cannot do anything – unless we abide in Him.
Abiding in Jesus can seem vague and overwhelming. It doesn't have to be! Prayer and Bible intake are the two primary pillars of abiding in Jesus. These two disciplines are how we drink deeply of the Living Water and eat heartily of the Bread of Life. They do not have power to save us nor to sanctify us, but they draw us close to the One who does.
A Spiritual Scrapbook
The Abide Book journal is a yearly "spiritual scrapbook" for your walk with God to help you strengthen the disciplines of prayer and consuming the Word in your life. Month by month, the Abide Book will help you focus your prayer life, track God's responses to your prayers, hone in on key takeaways from your Bible intake, and reflect on how God is working in, through, and around you.
At the end of each year, you'll have a beautiful summary of your spiritual life and growth all in one easy-to-reference journal.
Abide Book Contents
The Abide Book contains:
-A helpful how-to-use guide to get you started
-24 suggested prayer categories with prompts to fuel your prayer life
-Monthly sections for each month of the year
-End-of-the-year reflection
Each month's section contains:
-Month intro page to set spiritual goals for the month
-Dates & times page to write down time-specific request
-Prayer schedule page so you can plan what you'll pray for each day of the week
-Prayer pages to organize prayer requests by the categories of your own choosing
-Bible intake pages where you can jot down your daily key "truth nugget" from sermons, Bible study, etc.
-2-page spread to record answered prayers (even if they weren't answered the way you wanted!)
-Simple end-of-the-month reflection
With Scripture woven throughout the pages, a minimalist design, and attractive fonts, the Abide Book is a resource for both men and women.
Specs
-Size: 5.5″ x 8.5″
-Binding: Spiral bound
-Page Count: 280
-Cover: Heavy weight laminated cardstock front cover and black leatherette back cover
-Paper: Sturdy 70lb uncoated text paper