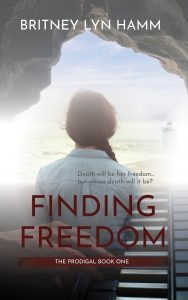 When an abused survivor seeks freedom from her past with a fresh start in coastal Maine, the unrelenting love of an intriguing musician promises to set her free – but at the ultimate cost.
This romantic suspense novel will keep you on the edge of your seat as life, death, love, and hope collide in a powerful story of the unrelenting love of God.
She is running from a past filled with pain, shame, and regret.
He is a musical genius hiding from the limelight he left behind.
When their paths collide,
will they find freedom and a love that conquers all things—even death?
Darcy Mulligan is running from her past, including the man who stole everything from her. With a fresh start and a new identity in coastal Maine, she finds a family of people who challenge her to put her past behind her for good – including the intriguing musician who relentlessly pursues her at the ultimate cost.
When her worst nightmare finds her and tragedy strikes, her past threatens to reclaim her heart – and the life of the one she loves. Will she put her shame behind her and accept the inexplicable love of God? Will she find freedom from the demons of her past? And will love conquer all things, even death?