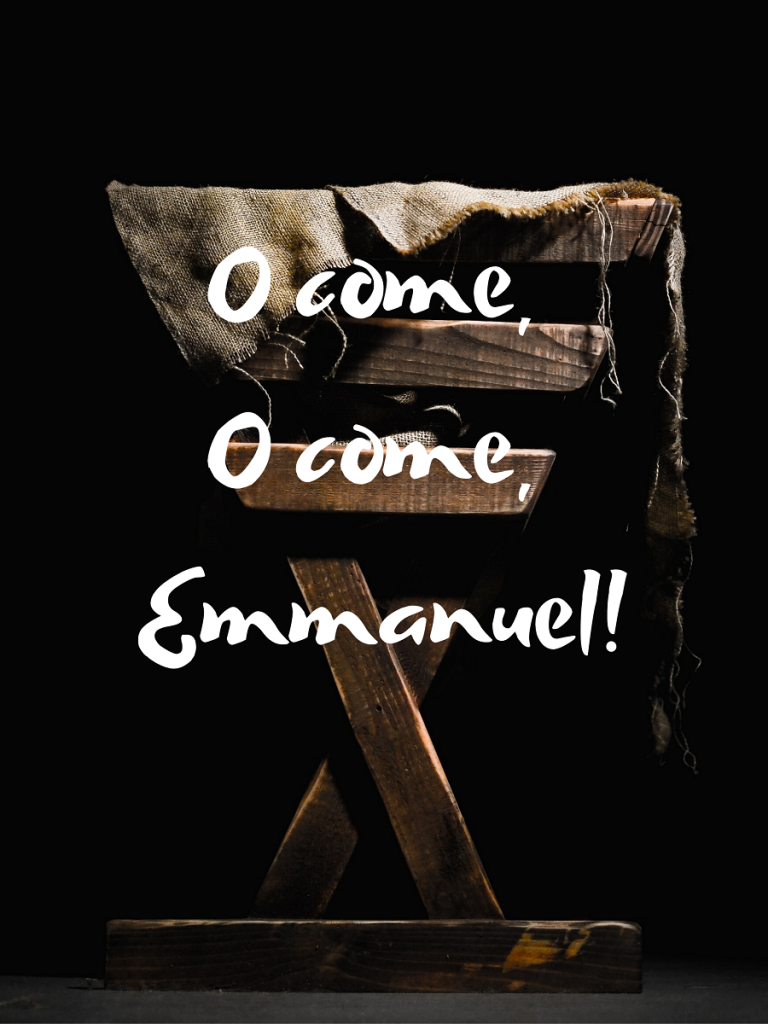 O Come, O Come, Emmanuel has always been my favorite Christmas song. Something about the haunting minor key and the pleading lyric captivates me (see the end of this post for a beautiful rendition of it by Sovereign Grace).
This year, it's been even more poignant. I've been struck by the realization that it's not primarily a song of celebration, "glad tidings," or warm fuzzies.
It's a song of anguish. Of longing. Of desperate expectation. Of beseeching hope.
Until now, the holidays were a relatively joyful and peaceful time, a time I've always treasured and enjoyed. This year I joined the ranks of those for whom the holidays are a deeply painful mixed bag. From March 30 on, my side of the family was turned upside down and inside out due to life-altering circumstances that are still continuing to unfold. The traditions I've treasured now come with an unwelcome bitter side dish of heartache. The warmth and closeness and enjoyment my family of origin has always shared are now tempered with heart-wrenching sorrow.
I know we're not alone. For many people, the season of "glad tidings" and "Christmas cheer" is one they wish would just pass by. It doesn't feel like a time to celebrate. It's filled with heartache, familial conflict, loneliness, or painful reminders of things lost or things never had.
For some, it has been this way as long as they can remember. For others, like myself, some tragedy at a marked point in time "broke" the holidays for them. Those treasured traditions, memories, and activities are now tainted – or perhaps entirely overshadowed – by grief and pain.
Prior to Thanksgiving, I was dreading the holidays. I wanted to skip to January. I didn't want to deal with the swirling tornado of mixed feelings the holidays enunciated. It felt like Christmas should just pass by unnoticed this year, because deep down nothing felt right or normal about it.
But I'm a mom of young kids, and skipping the holidays just isn't going to happen. As we decorated, listened to Christmas carols, opened our Advent calendar every night, did activities connecting the traditions of Christmas to Jesus, and read Christ-centered storybooks, my heart began to thaw. My kids' unadulterated excitement seeped into my heart, but for different reasons – reasons less about the festivities and more about what remains when you strip it all away.
I remembered why I love Christmas. I remembered why there is something to celebrate. The meaning of the words of the carols began to penetrate my heart.
I realized that my grief and heartache aren't unfestive. They aren't incompatible with Christmas. In fact, they're the perfect platform for true Christmas spirit to bloom.
You see, according to Scripture, Christmas didn't begin as a major key holiday. It was minor key all the way. It was poverty. Scandal. An uncomfortable, long journey. Labor pains. A dirty manger. The blood and guts of birth. A murderous earthly king. A midnight escape to a foreign land.
Grief and heartache aren't unfestive. They aren't incompatible with Christmas. In fact, they're the perfect platform for true Christmas spirit to bloom.
Isaiah 9 says "there will be no gloom for her who was in anguish." ANGUISH. Jesus didn't come to a picture perfect people. He came to a people in exile. In bondage. In pain. Everything about the first Christmas began with anguish.
Perhaps, like O Come, O Come Emmanuel, Christmas is more about a cry of anguish than holiday cheer and warm fuzzies. Of aching longing for eternity rather than rosy contentment with earthly things. Of desperate expectation rather than idyllic sentiment. Of hope – hope in what has come, yes, but more so in what is yet to come.
Perhaps where our anguish and the hope of Christmas meet, we experience a glimpse of the true peace and joy of Christmas. Perhaps the key to Christmas spirit isn't found in ideal circumstances or putting on a happy face or pretending Christmas doesn't exist, but rather in embracing the anguish as we desperately cry out, flat on our face, with tears streaming and heart breaking, "O come, o come, Emmanuel!"
No matter what is happening in our earthly life, no matter how much we have lost, there is always something to celebrate on Christmas for those who belong to Christ.
We celebrate that there will be restoration for the broken. Rest for the weary. Hope for the despairing.
We celebrate that the aching, the longing, the groaning are labor pains that WILL give birth to something beautiful, to an eternal treasure that cannot be lost.
We celebrate that light overcomes the darkness, that we have the ultimate victory, that we are not crushed, no matter how low we feel.
We celebrate that though we live in a world cut off from its life source due to sin, that severed connection has been restored. Life flows through our veins again, because we have Immanuel, God with us.
So, to you who find Christmas (or the entire month of December) to be a painful mixed bag…to you who wish Christmas was over before it begins…to you who feel you have nothing to celebrate…to you who find the traditions and decorations and gifts unfulfilling and meaningless…to you who can't sing in a major key right now, here's what I'm praying for you:
As you weep and mourn and grieve, as the holiday season makes everything you have lost or wish for even more pronounced, I pray your anguish will come face to face with the hope found in the child whose name is called Wonderful Counselor, Mighty God, Everlasting Father, Prince of Peace, who comes with justice and righteousness from this time forth and forevermore. I pray that where your anguish and that hope meet, you will experience the joy and peace that transcend all understanding, even in the worst of circumstances. I pray that you will see that when you strip away everything else, one thing remains, and that is Jesus, the Messiah, and that is everything.
He answered that prayer for me yesterday. He can answer it for you, too. Let your heart behold the True Light, whose life is the light of all mankind. Behold the Lamb of God, who takes away the sins of the world.
Background photo by Greyson Joralemon on Unsplash